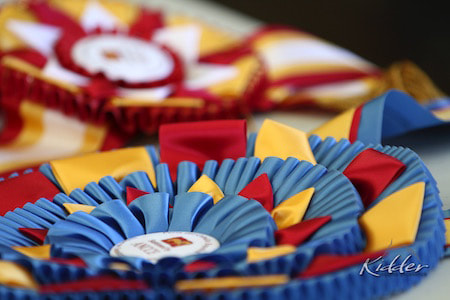 The Mother's Day Circuit Tradition Continues
---
SLOCQHA Mother's Day Circuit

Show Information

2021 Mother's Day Circuit Show Dates
May 4th through 9th, 2021
​
Paso Robles Event Center, Paso Robles, California


---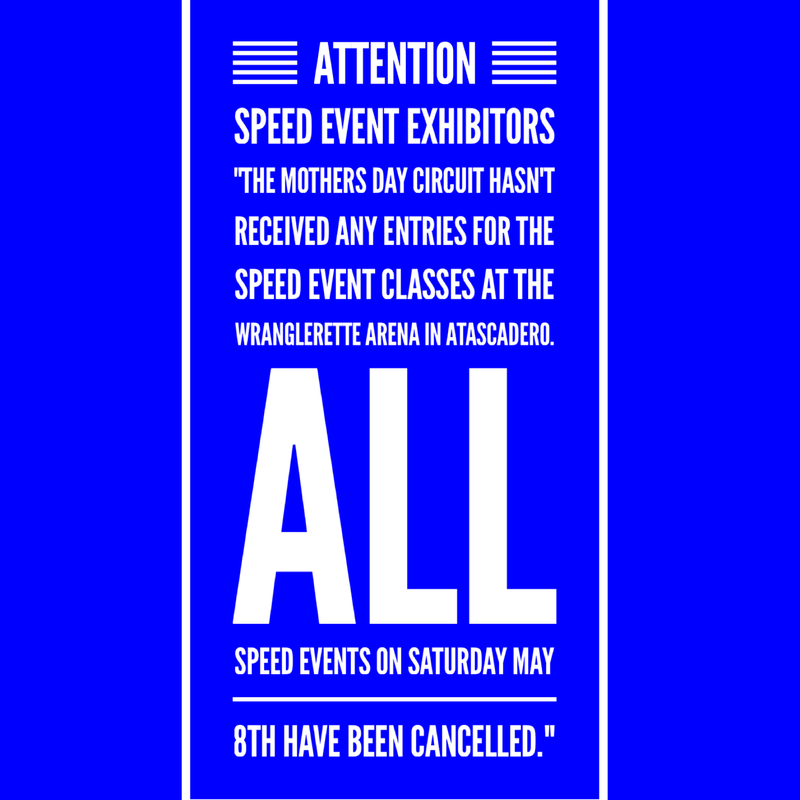 ---
MDC Important News 4/7/2021
"We are adding Ranch Riding Open Level 1 to all three days of the Ranch Riding classes. On Wednesday Ranch Riding Open Level 1 will be class 515 A and will follow Ranch Riding Amateur Level 1. On Thursday and Saturday Ranch Riding Open Level 1 will be class 26 A and will follow Ranch Riding Amateur Level 1." A special THANK YOU to Kristin Brock Show Horses for sponsoring the Ranch Riding Open Level 1.
Thank you to all the sponsors that make the MDC show possible.
---
Breaking News!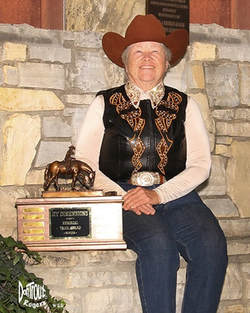 ​Becky Martin and Hezan Investment
winners of the
​High Dimensions Trail Trophy 2018 MDC
---
The 50th Anniversary of the Mother's Day Circuit was a
HUGE Success!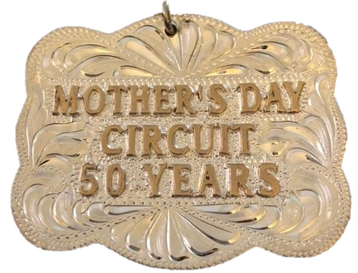 Longest Running AQHA Show in California Celebrates 50 years!

2017 was a special year for the Mother's Day Circuit Quarter Horse Show. 2017 marked the 50th year Anniversary of this AQHA Circuit. How many AQHA shows do you know that can say they've been operating for this long? This show has two arenas, with two shows going from cutting and cowhorse events to pleasure, performance and trail bringing both realms of the Quarter Horse Show world together. It's also one of the largest Quarter Horse Shows in the state of California.

The great location of the show adds to a great family trip for the whole family on Mother's Day Weekend. It's only a short jaunt to the beach or it can be a weekend full of wine tasting in the vineyards of Paso Robles. Exhibitors always look forward to a great week at the Mother's Day Circuit Quarter Horse Show.
Trainer/Exhibitor, David Busick who has been coming to this show for the past twenty five years, said the show is "known for the down home, country feel. There's always a nice barbeque and the people enjoy the wine country town of Paso Robles." David was also sure to add, "The TEEM (Total Equine Event Management) staff and management are always pleasant and nice to deal with."


Thank You Cutting, Working Cow Horse and Boxing Competitors!
Every year the SLOCQHA Mother's Day Circuit has a huge turn out for our Cutting, Working Cow Horse and Boxing classes and this year was no exception. Cutting was offered on Wednesday with 2 goes and there were 120 cutting runs. Working Cow Horse and Boxing classes were held on Thursday and Saturday and we had 275 runs over those two days. We have learned that our show is one of the largest AQHA Working Cow Horse Shows in the country!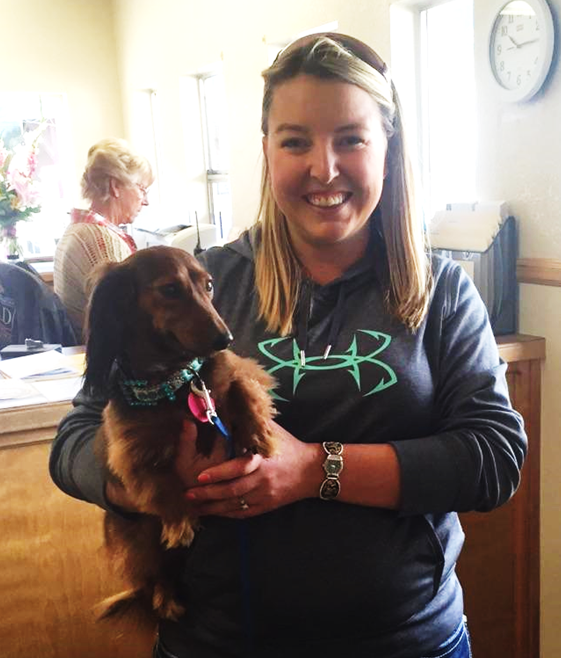 Drawing Exhibitors from Outside the Golden State:
Not all exhibitors at this show are from California. The show draws exhibitors from a vast range of states. One exhibitor, Kelsey Nichols, traveled all the way from Loma, Colorado to compete in the reining. This show is worth the drive for Kelsey because it offers more competition with more exhibitors in Amateur Reining.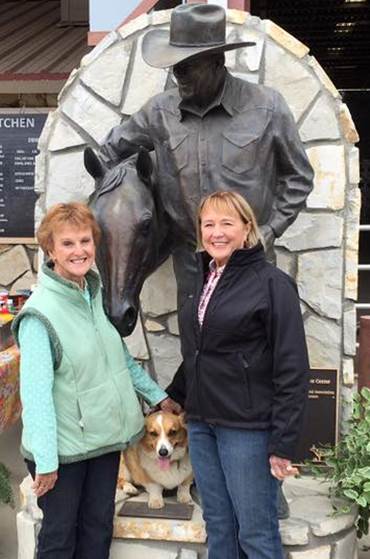 Honored by a Special Visit from AQHA President Sandy Arledge:
AQHA President Sandy Arledge came out to celebrate the 50th Anniversary of the Mother's Day Circuit Quarter Horse Show. All of us attending the show were certainly honored to have her join us on Wednesday and we took the opportunity to ask her a few questions about the show and her goals as President of AQHA. She has been to this show many times and has even previously exhibited as a competitor. Sandy did not have an exact number of how many times she's attended the show and her answer when asked was "Too many times to count."

Since we are celebrating the 50th Anniversary of this show, we asked Sandy how many other AQHA shows have been around 50 years. Sandy stated, "I believe, and I said this in one of my posts yesterday, that this is the longest continuously running, AQHA show in the state of California. I believe that's accurate, which is extremely impressive and definitely a great goal to accomplish!"

As an ending note, we wanted to learn Sandy's goals for AQHA as president.
"Oh I have a number of goals. If you have an opportunity you can go online and go to the website and read the speech I gave at the convention when I accepted the Presidency. One of my big things is to re-engage the affiliate program and to get our affiliate members on board with reaching to our grass roots people….. We would like to reinvigorate that program. We have a number of issues that we are dealing with and I have appointed, actually a San Luis Obispo Member here, to the affiliate council and we just had a meeting this morning to talk about goals for the affiliate council. I also want to work tremendously hard on education, communication, and on our international program to reach out more aggressively to our international members."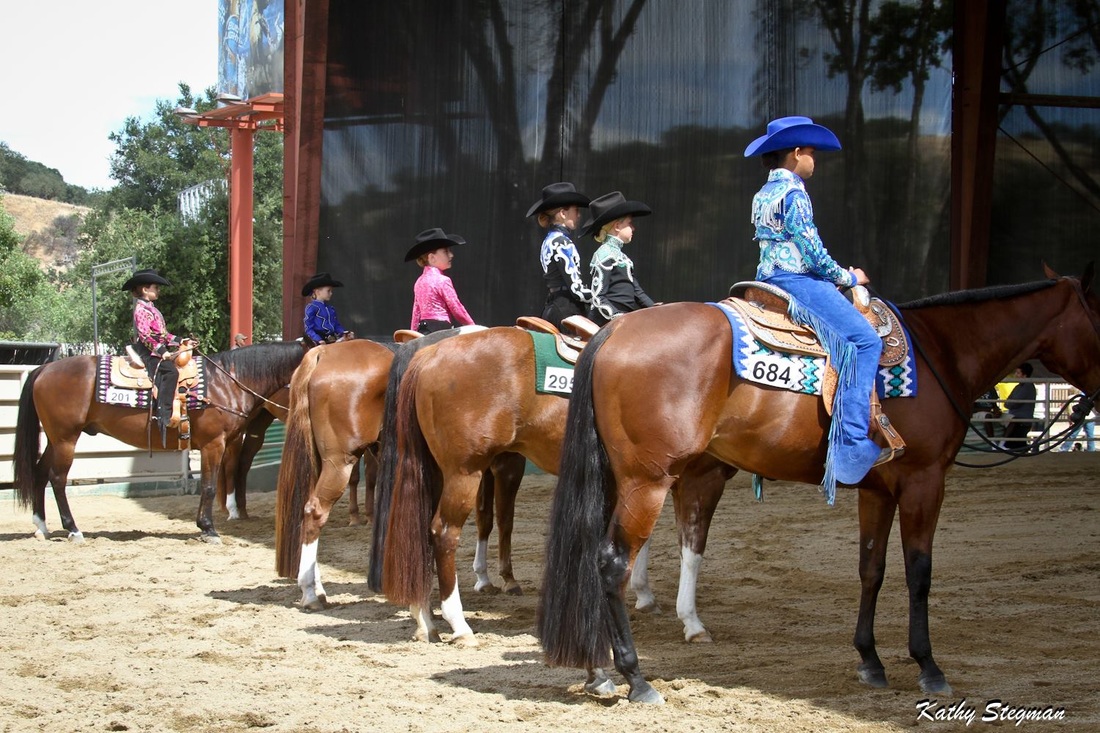 New Youth Paving the Trail for the Future:
As we all know, without our youth, there is no future. We are so pleased with the involvement we've had from our youth at the Mother's Day Circuit Quarter Horse Show. The numbers of entries in our youth classes is higher than we've seen in many, many years.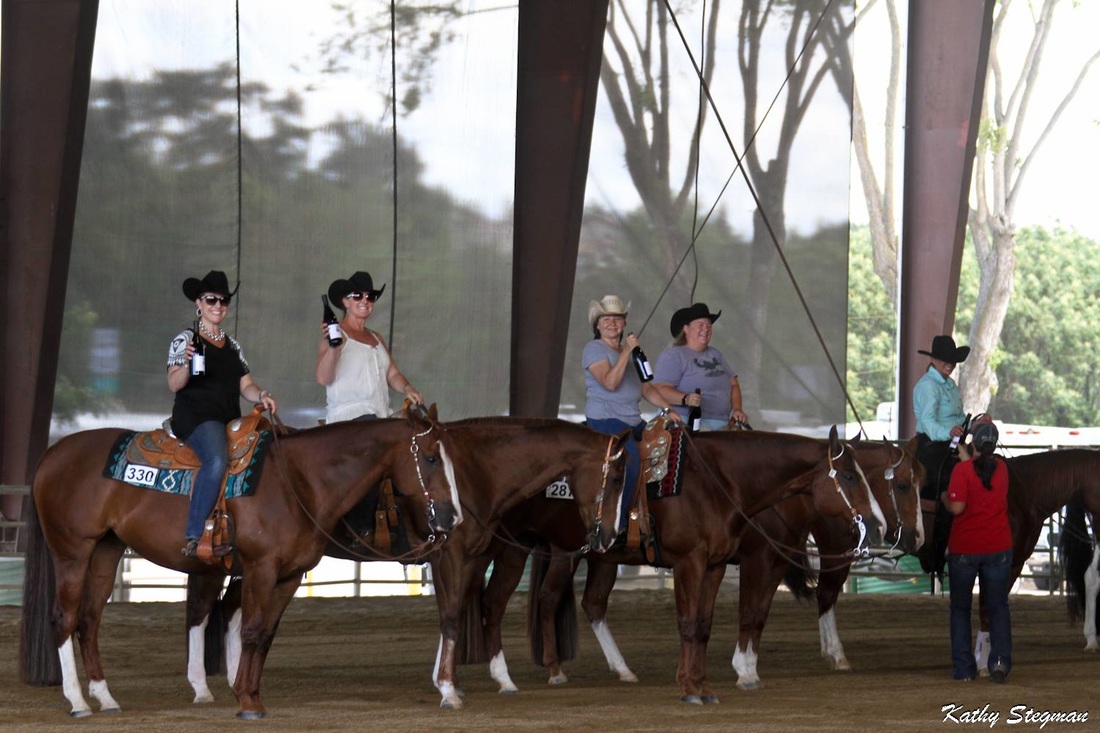 Celebrating Show Moms in a Horse Show World:
As the name of the show states, this show is held during Mother's Day week and weekend. We all know how hard the mother's work in the background to make sure their kids are dressed, clean, on their horses and ready for the show. In honor of the moms and in memory of the late Kathy Hunt, every year a free "Mother's Day All Breed Pleasure Class" is offered. An incentive for the moms to enter the class is the gift of a bottle of wine from the local wineries. This class also offers a chance for the mom's to get involved in a more rewarding way.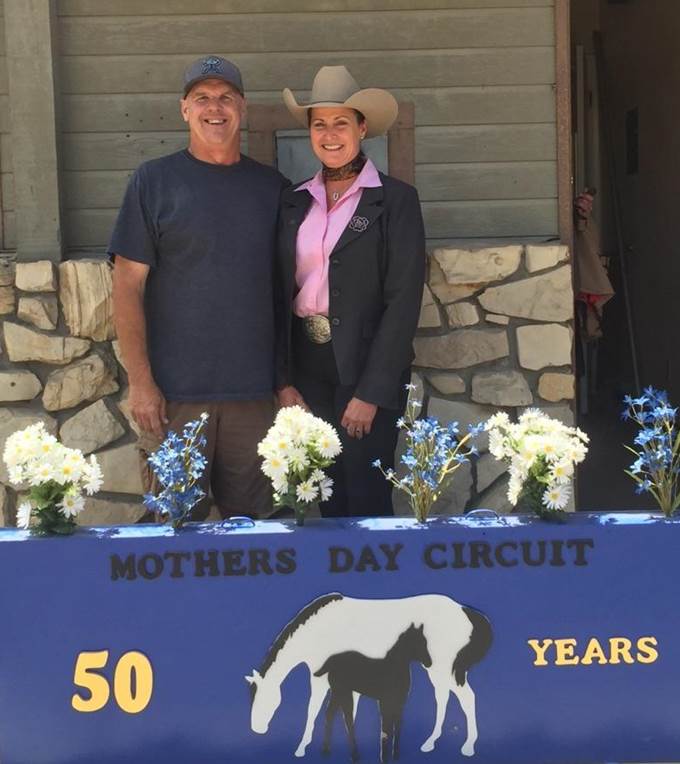 American Quarter Horse Community Comes together for Fundraiser for a Judge in Need:
An admirable aspect of this show and the people who attend, is their ability to come together and help someone who is in a difficult time. One of our four judges, Chele McGauly, recently went through a flood at her place right outside of Shreveport, Louisiana. They were hit with 26 inches of rain in just a few short hours. On top of the rain, the levy also broke. Chele's whole property was flooded, resulting in severe damage to her home and the loss of a whole barn full of feed, the horse barn, the office, the lab, fencing, etc. With the help of many people she was fortunate enough to save the horses, cattle, dogs & cats on the ranch.

Don Crow, President of the San Luis Obispo County Quarter Horse Club decided to hold a raffle at their 50th Year Celebration barbeque as a fundraiser/surprise for Judge McGauly.

Club President, Don Crow stated,
"When we lost our other judge Buddy Fisher to a back surgery, we immediately thought of Chele and her situation, and we put her first on our list to hire her as a judge. We also came up with a plan to do 50/50 fundraiser where people buy raffle tickets. We also had some other raffle items to give away. You put a ticket in, your tickets drawn, you split the pot and then the person that won, Bob Miller, a local man here, gave back half his winnings. So she was presented with over nine hundred dollars! After the flood, her ranch is in dire need of rebuilding, mold removal and repairs, most of which is not covered by insurance. The San Luis Obispo County Quarter Horse Association matched the proceeds raised in the fundraiser with a donation to Judge McGauly's Go Fund Me account which was set up by other judges after the flood."
Chele was beyond surprised and grateful for the love and support of the horse community.


Role Models for Kindness:
During this show, TEEM (Total Equine Event Management) has been encouraging people to pay it forward! Nominations were held everyday for people who exhibited "Random Acts of Kindness". People were asked to post their nominations on the TEEM Facebook page and winners were randomly selected. Prizes consisted of sterling silver earrings from Carlos Silver and gift certificates from Flanigan's, two of the vendors at the show.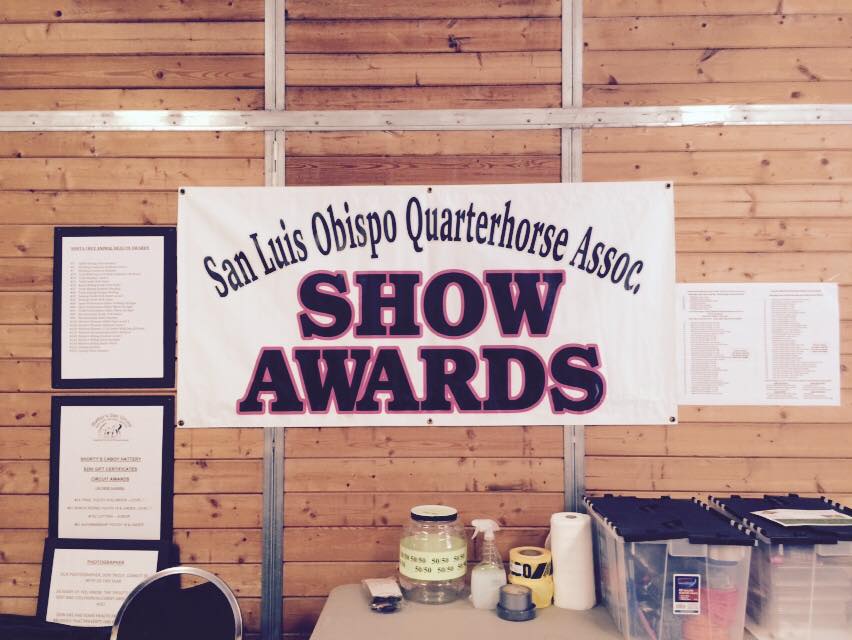 Awards to Last 50 years and Beyond:
Various awards are offered for high point, circuit awards, and first and second place prizes for the Mother's Day Quarter Horse Show.
Over $15,000 in awards and cash prizes
were awarded to the winners.
$250.00 Circuit Awards:
The 2017 SLOCQHA Mother's Day Circuit offered $250 Circuit Championship awards in 25 particular classes that cover the broad spectrum of AQHA show events, stretching from Cutting Amateur Level 1 to Hunt Seat Equitation Amateur to Western Pleasure Junior Horse.
Wood's Western sponsored $250 gift certificates as Circuit Awards in four events
Shorty's Caboy Hattery sponsored $250 gift certificates Circuit Awards in 4 events
Santa Cruz Animal Health and Finishline provided some special awards in a variety of classes
Farm Supply Company offered special prizes to San Luis Obispo County residents
All Around Champions receiving custom SLOCQHA jackets:
Amateur-Taylor Brown showing Absolute Best Asset
Select Amateur-CeCe Campbell showing Skys Lady In Blue
Youth-Bobbie Piddock showing Radical N Style
Circuit Champion Amateur Level 1 Trail:
Marie Miller, a previous long time past President of SLOCQHA, also donates a special bronze trophy each year that is presented to the Circuit Champion in Amateur Level 1 Trail. The winner this year was Cassidy Miller. Marie also generously donated a bronze trophy for the Circuit Champion in Walk/Jog Youth Level 1 Trail.
Larry Mitchell Memorial Award:
A special bronze trophy is awarded each year to the Reserve Select Amateur All Around rider, in memory of Larry Mitchell and the 2016 winner was Gay Versteeg.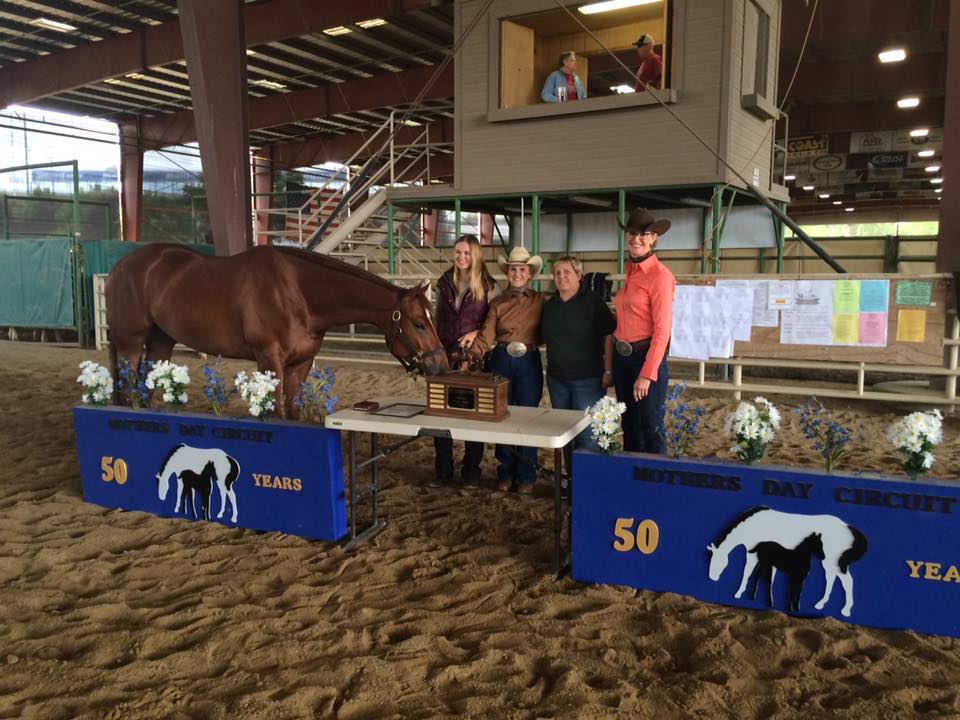 Hy Dimensions Trail Award:
This year, a new trophy has been introduced to the show, the Hy Dimensions Trail Award. The trophy has been donated by Lisa Lazarus in memory of her horse Hy Dimensions and to honor trainer, Cynthia Cantleberry, "Queen of the Trail". Hy Dimensions suffered from lameness in his hind end from a possible flip over on his spine Lisa was never told about. When he went to trainer Cynthia Cantelberry, she alerted Lisa of his lameness and they had the horse in the hospital for two months. A year later, he was competing in the Select World Show in Amarillo! Despite being told the horse should be put down, he went on to compete and win in many shows. Unfortunately, while Lisa was fighting illness, Hy Dimensions ate a poisonous plant and died at eleven years old. This trail award is to honor Hy Dimension's love for trail. The winner of the trophy was trainer Carolyn Rice showing Hez Pretty Extreme.


---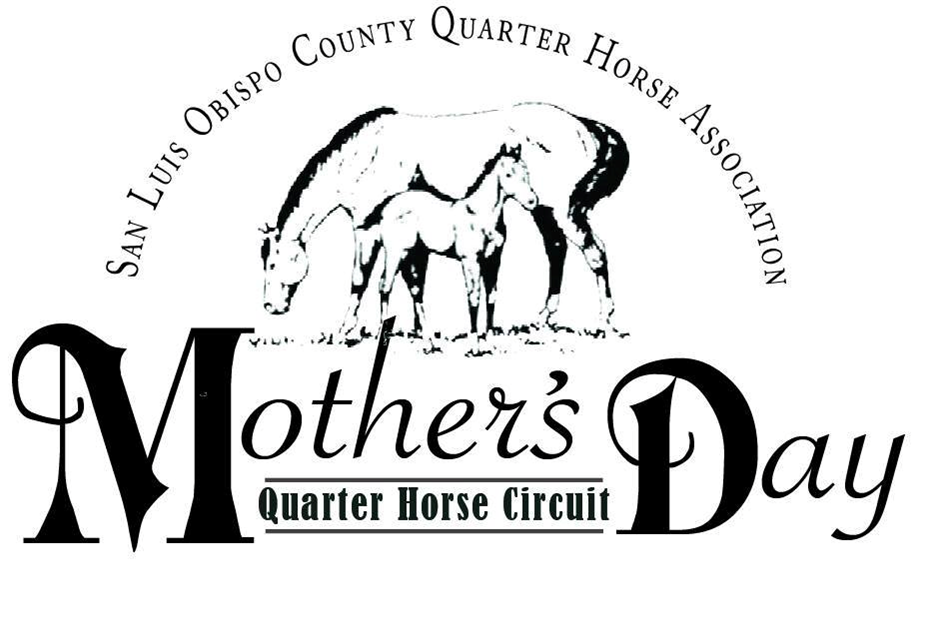 ---
Photo Gallery